The Sentinel-3 Synergy Level-2 SDR (Surface Directional Reflectance) product provides the atmospherically corrected surface bi-directional reflectance, also termed surface directional reflectance (SDR), and the corresponding information on aerosol properties. It is generated from Sentinel-3 SLSTR and OLCI TOA (Top-of-atmosphere) radiances using the enhanced spectral and angular capabilities of a combined instrument.
The contents of the processing baseline (PB) releases are tracked and described at Sentinel-3 Synergy Processing Baseline.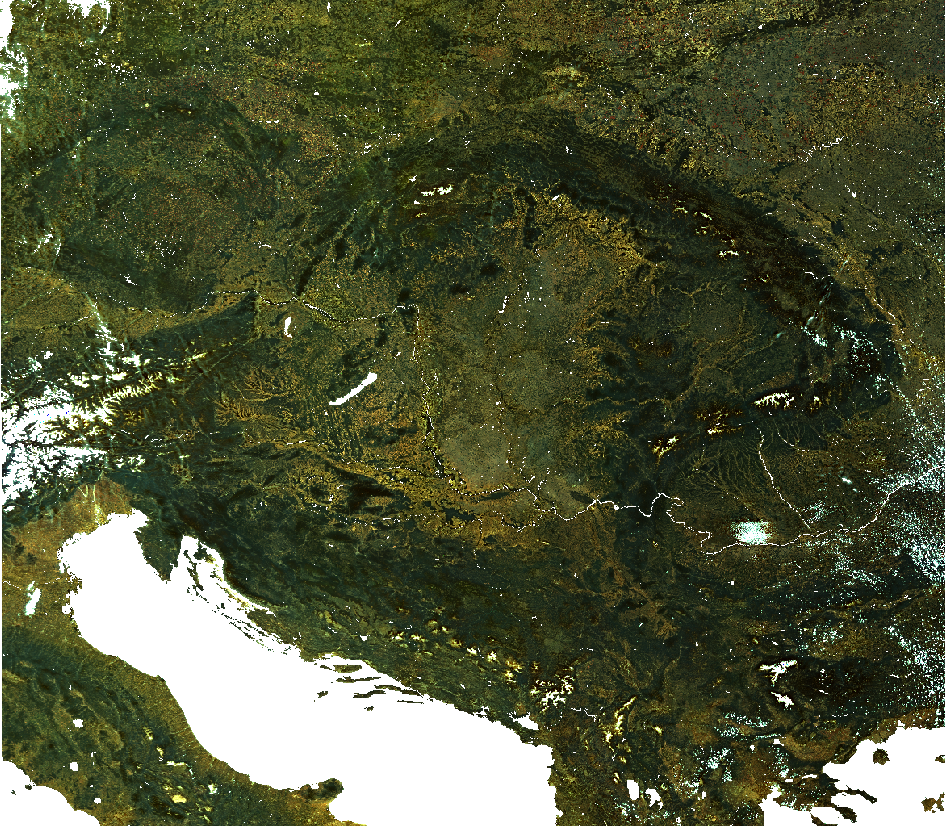 Figure 1 SY_2_SYN product sample
SY_2_SYN Dataset Specification
The Sentinel-3 Synergy Level-2 product provides atmospherically corrected bi-directional surface reflectances. Aerosol Optical Thickness (T550) and Angstrom exponent (A500) at 550 nm, classification and quality flags are included as additional parameters in the product. The main characteristics of the SY_2_SYN products are listed in Table 2.
Table 2 SY_2_SYN Product Characteristics
Product name

SY_2_SYN

High-level description

Atmospherically corrected bi-directional surface reflectances of 5 solar reflective SLSTR bands at both nadir and forward views (a total of 10 input channels – S4 channel is excluded as this band is dedicated to cloud detection), and 16 OLCI bands at all non‐absorbing channels (i.e. excluding OLCI oxygen bands 13 to 15 and water vapour bands 19 and 20)

Algorithm used

SYN SDR Algorithm

Data Characteristics

SAFE zipped folder (Standard Archive Format for Europe) including metadata in xml format and measurement data files in NetCDF format (Network Common Data Form).
WGS84 Geolocated pixel tiled on Sentinel-3 OLCI grid

Additional layers

Aerosol Optical Thickness at 550 nm
Aerosol Angstrom Exponent at 550 nm
Classification and quality Flags associated with OLCI, SLSTR and SYNERGY products

DEM used

Digital Elevation Model (DEM) GETASSE30 30 seconds of resolution

Auxiliary Data used

Processing Control Parameters for SYN IPF L2
SYN L2 Radiative Transfer Simulation data file
SYNERGY L2 Aerosol Climatology Data
SYNERGY L2 Atmospheric Radiative Transfer LUT Data
SYNERGY L2 Land Spectral Reflectance LUT Data
SYNERGY L2 CAMS AOD climatology
SYNERGY L2 Processing Control Parameters
Restituted orbit from FOS
ECMWF analysis at surface SFC and at pressure levels PL
ECMWF analysis at model levels ML
ECMWF data such as surface pressure, mean sea level pressure, specific humidity, temperature and orography
physical constant values and parameters
Land/Water, open ocean, coastline masks
Tidal regions mask
Reference orbit scenario file

Production & Distribution

Systematic generation and online distribution

Data Volume

About 600 MB (each 1270 x 1270 km)

Data Availability

Global since October 2018

Data Delivery

Available within 48 hours after data acquisition
Learn more about the Sentinel-3 Synergy Level-2 algorithm in the ATBD.
Resolution
The SYN Level-2 User products are produced at OLCI full resolution (300 m), taking into account only the daylight part of the orbit and pixels over land.
The temporal coverage is less than 2 days with two satellites in orbit.
The radiometric resolution depends on the OLCI and SLSTR bands used in the Synergy product, more details are available here.
Download the relevant Sentinel-3 OLCI and SLSTR spectral responses.
Coverage acquisition maps
The Sentinel-3 mission provides systematic Synergy L2 global coverage over land. The swath corresponds to the common part of the OLCI and SLSTR nadir view swaths for the daylight part of the SENTINEL-3 orbit, i.e. the entire OLCI swath: ~1 270 km. Read more about Coverage.
Quality reports
The Optical Mission Performance Centre (OPT-MPC) provides a monthly status of the Sentinel-3 synergy product quality via the dissemination of a Sentinel-3 OLCI Data Quality Report (DQR). The report provides information on the most recent product performance validation results and the processing baseline version in operation.
View available Sentinel-3 OLCI Data Quality Report.
How to access this data
Products are freely available via the Copernicus Data Space Ecosystem. In addition to the download services, the Sentinel Data Products are available in the Copernicus Data and Information Access Service (DIAS) cloud environments. Each DIAS provides processing resources, tools and complimentary data sources at commercial conditions to further facilitate the access to Sentinel data. Learn more about how to access Sentinel data.
Resources
Tools
The Sentinel-3 Toolbox consists of a rich set of visualisation, analysis and processing tools for the exploitation of Sentinel-3 Synergy products.
Data Citation Guidelines
Users, who, in their research, use ESA Earth Observation data that have been assigned a DOI, are asked to use it when citing the data source in their publications: European Space Agency, 2022, Level-2 SYNergy Surface Directional Reflectance, Version Collection version 2, https://doi.org/10.5270/S3D-643ee90.