The SYN branch of SENTINEL-3 processing is a synergy of OLCI OL_1_EFR and SLSTR SL_1_RBT products.
The SYN product types are divided into six main products:
Product type
Description
Availability to the User
Product Level
SY_1_MISR__
Correspondence and collocation grids between OLCI/SLSTR acquisition and image grid and SYN Level 2 internal grid (i.e. OLCI instrument grid)
Not Available
Level 1
SY_2_SYN___
Surface Reflectance and Aerosol parameters over Land
Available
Level 2
SY_2_VGP___
1 km VEGETATION-Like product (~VGT-P) - TOA Reflectance
SY_2_VGK___
Surface reflectance over Land– used as input for VG-S product
SY_2_VG1___
1 km VEGETATION-Like product (~VGT-S1) 1 day synthesis surface reflectance and NDVI
SY_2_V10___
1 km VEGETATION-Like product (~VGT-S10) 10 day synthesis surface reflectance and NDVI
SY_2_AOD___
Global Aerosol parameter over land and sea on super pixel resolution (4.5 km x 4.5 km)
Level-1
NOTE: Level-1 product is not disseminated to Users.
SY_1_MISR is the output of the SYN Level-1 processing. The Level-1 product provides the correspondence grids between OLCI reference channel in the acquisition geometry and the others OLCI and SLSTR channels in their L1B image grids.
Level-2
SY_2_SYN : surface reflectances for all SYN channels and aerosol parameters over Land
SY_2_VGK : surface reflectance associated with VGT channels and NDVI over land
NOTE: The SY_2_VGK product is the input of the VGT-S software, and are NOT disseminated to Users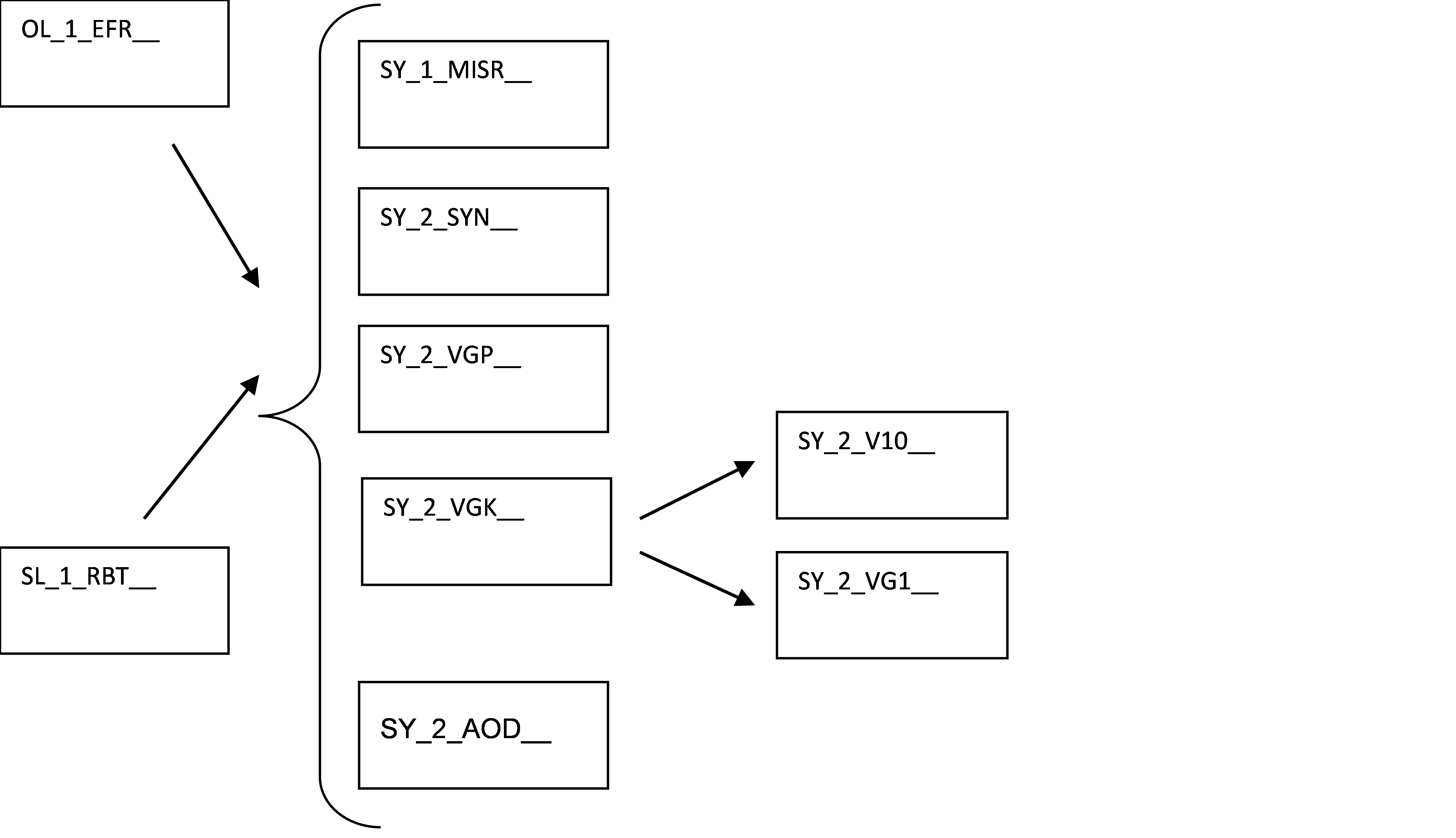 Figure 1: Synergy Product Tree
The SYNERGY (SY_2_..) products are distributed as STC products (using OLCI and SLSTR L1 PDUs) and as NTC products using consolidated OLCI L1 and SLSTR L1 orbits as inputs.