The OLCI data format follows the format defined for each Sentinel-3 product in the PDGS product specification and is based on SENTINEL-SAFE.
SENTINEL-SAFE is based on the XML Formatted Data Units (XFDU) developed by the Consultative Committee for Space Data Systems (CCSDS). SENTINEL-SAFE is a profile of XFDU, and it restricts the XFDU specifications for specific utilisation in the EO domain, providing semantics in the same domain to improve interoperability between ground segment facilities.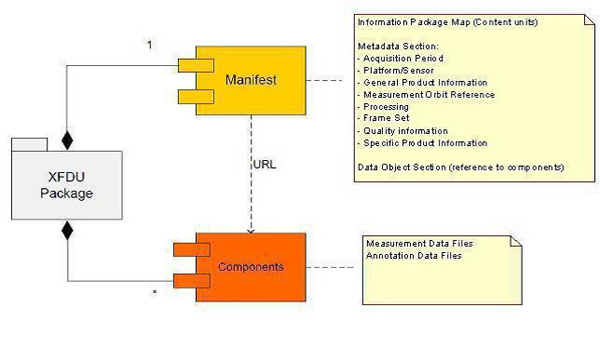 Figure 2: XFDU package schema
Each product package includes:
a manifest file containing a metadata section and a data object section
measurement data files
annotation data files, if defined
for Level-0 only, representation data files (XML files describing the binary information).
Sentinel-3 user products are disseminated in Product Dissemination Units (PDU), in order to ease the online dissemination and data handling for the users. The PDU is a portion of data and is defined per product type.
Table 5: Description and content of the OLCI product package. The estimated size corresponds to a half orbit without consideration about compression, with NRT/NTC less than 3/48 hours after measurement by satellite
Level
Name of
Product Package
Main Content
Use
Latency
Estimated
Size per half Orbit
Product Dissemination Unit
(PDU)
0
OL_0_EFR
Full Resolution ISPs
INTERNAL
NRT
9.5GB
N/A
OL_0_CR0
Calibration with no spectral relaxation
502Mb
OL_0_CR1
Calibration with spectral relaxation
240Mb
1
OL_1_EFR
Full Resolution TOA Reflectance
NRT/NTC
28.5GB
Frame 3 mn
OL_1_ERR
Reduced Resolution TOA Reflectance
2.3GB
Dump (full daylight orbit)
OL_1_RAC
Dark offset and gain coefficients from radiometric calibration
INTERNAL
NRT
1Mb
N/A
OL_1_SPC
Wavelength characterization from spectral calibration
27Mb
2
OL_2_WFR
Full Resolution Water and Atmosphere geophysical products
USER
NRT/NTC
28.4GB
Frame 3 mn
OL_2_LFR
Full Resolution Land and atmosphere geophysical products
8.8GB
OL_2_WRR
Reduced Resolution Water and Atmosphere geophysical products
2.4GB
Dump (full daylight orbit)
EFR Earth Observation Full Resolution
ERR Earth Observation Reduced Resolution
RAC Radiometric Calibration
SPC Spectral Calibration
WFR Water Full Resolution
LFR Land Full Resolution
WRR Water Reduced Resolution
LRR Land Reduced Resolution