The Meteosat Third Generation (MTG) space system comprises two families of satellites:
MTG-I, an imager satellite
MTG-S, a sounder satellite
Both types of satellites have a 3-axis stabilized platform which is necessary for obtaining a better spatial, temporal and radiometric resolution, compared to the previous generation of EUMETSAT's geostationary satellite: MSG (Meteosat Second Generation).
Thales Alenia Space is the overall responsible of the MTG space system and leads the industrial consortium in charge for building the families of MTG satellites.
Bremen-based OHB is responsible, as sub-contractor, for the MTG-S satellites and for the provision of the common satellite platforms, supported by Airbus Defence & Space as the System Architect.
The Sentinel-4 instrument is hosted as a Custom Furnished Item (CFI) provided by ESA to be embarked on the Meteosat Third Generation Sounder (MTG-S) satellite, shown in Figure 1.
The first series of MTG-S satellites is expected to be launched in 2021. Table 1 lists the payload instruments embarked on MTG-I and MTG-S.
Table 1: Instruments embarked on the MTG-I and MTG-S satellites

| | |
| --- | --- |
| MTG-I | MTG-S |
| Flexible Combined Imager (FCI) | Infrared Sounder (IRS) |
| Lightning Imager (LI) | Sentinel-4 |
| Data Collection System (DCS) | - |
| Search And Rescue (SAR) | - |
The main characteristics of the MTG-S satellite, hosting the Sentinel-4 instrument, are presented in Table 2.
Table 2: MTG-S satellite platform main characteristics

| | |
| --- | --- |
| Characteristic | Detail |
| Bus | Luxor bus from OHB-System GmbH |
| Attitude control | Three-axis stabilised, instrument constantly pointing toward earth |
| Launch mass | 3600 kg |
| Stowed dimensions | 2280 x 2760 x 5170 mm |
| Power | 2 kW, solar array of 10.7 m2 |
| Communication links | 260 Mbits/s |
| Lifetime | 8.5 years (consumables for 10.7 years) |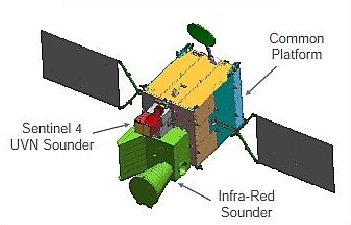 General overview of the MTG-S satellite. Credit: TAS