| | | | | |
| --- | --- | --- | --- | --- |
| Name | SWI_20 | SWI_19 | Difference | % |
| Colonia Cello | 29.38 | 62.52 | -33.14 | -53.0% |
| Estacion Clucellas | 27.95 | 59.13 | -31.18 | -52.7% |
| Clucellas | 29.29 | 61.76 | -32.47 | -52.6% |
| Frontera | 30.46 | 63.49 | -33.03 | -52.0% |
| Josefina | 30.20 | 60.82 | -30.62 | -50.3% |
| Santa Clara de Saguier | 29.69 | 59.67 | -29.98 | -50.2% |
| Bauer y Sigel | 30.19 | 60.27 | -30.08 | -49.9% |
| Coronel Fraga | 31.93 | 63.50 | -31.57 | -49.7% |
| San Antonio | 31.51 | 61.87 | -30.36 | -49.1% |
| Pueblo Marini | 32.31 | 63.06 | -30.75 | -48.8% |
| Ramona | 32.20 | 62.57 | -30.37 | -48.5% |
| Castellanos | 32.07 | 60.97 | -28.9 | -47.4% |
| Vila | 31.59 | 59.64 | -28.05 | -47.0% |
| Fidela | 33.88 | 62.93 | -29.05 | -46.2% |
| Bigand | 32.92 | 60.91 | -27.99 | -46.0% |
| Hugentobler | 33.45 | 61.60 | -28.15 | -45.7% |
| Saguier | 31.81 | 58.48 | -26.67 | -45.6% |
| Susana | 31.88 | 58.32 | -26.44 | -45.3% |
| Egusquiza | 32.66 | 59.22 | -26.56 | -44.8% |
| Colonia Iturraspe | 33.67 | 60.90 | -27.23 | -44.7% |
| Aldao (N) | 33.53 | 59.77 | -26.24 | -43.9% |
| Ataliva | 33.82 | 60.23 | -26.41 | -43.8% |
| Eusebia | 33.84 | 59.36 | -25.52 | -43.0% |
| Sunchales | 33.80 | 59.13 | -25.33 | -42.8% |
| Presidente Roca | 33.53 | 58.04 | -24.51 | -42.2% |
| Tacural | 33.19 | 57.19 | -24 | -42.0% |
| Villa San Jose | 33.51 | 57.56 | -24.05 | -41.8% |
| Tacurales | 34.37 | 57.94 | -23.57 | -40.7% |
| Colonia Raquel | 33.76 | 56.67 | -22.91 | -40.4% |
| Colonia Bossi | 34.27 | 57.44 | -23.17 | -40.3% |
| Palacios | 34.47 | 57.64 | -23.17 | -40.2% |
| Colonia Dos Rosas | 36.37 | 60.35 | -23.98 | -39.7% |
| Colonia Ana | 34.05 | 56.00 | -21.95 | -39.2% |
| La Rubia | 34.54 | 56.25 | -21.71 | -38.6% |
| Las Palmeras | 34.03 | 55.37 | -21.34 | -38.5% |
| Bicha | 35.52 | 57.52 | -22 | -38.2% |
| Villa Trinidad | 36.01 | 56.37 | -20.36 | -36.1% |
| Colonia Rosa | 35.79 | 55.05 | -19.26 | -35.0% |
| Virginia | 35.20 | 54.13 | -18.93 | -35.0% |
| Rafaela | 39.75 | 58.95 | -19.2 | -32.6% |
| San Guillermo | 37.11 | 54.92 | -17.81 | -32.4% |
| Curupayti | 40.86 | 57.92 | -17.06 | -29.5% |
| Arrufo | 41.98 | 57.44 | -15.46 | -26.9% |
| Portugalete | 43.80 | 54.03 | -10.23 | -18.9% |
| Average | 35.21 | 58.24 | -23.03 | -39.5% |
Title: SAR water Index for Argentina districts
Description: This table features the districts of the Santa Fe province, where only districts in which the whole area was covered by the Copernicus Sentinel-1 footprint were considered. For the comparison the whole area was considered. Some districts are nearly fully covered with cropland, while others are partly covered with forests.
Copyright: Cropix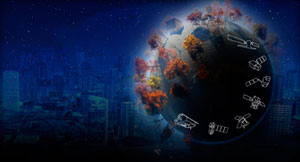 Calling on all interested users of Sentinel data, who would like to submit their results, turning their experiences into 'success stories'.
If you have a good story to tell, of how any of the Sentinel satellites are producing data that bring benefit to your work and/or to society, please contact the Sentinel Online Editor Malì Cecere at: mali.cecere@ejr-quartz.com with your proposals.