As global warming induced reductions in sea ice open the polar regions for increased maritime traffic, radar data from Copernicus Sentinel-1 enable a new tool for safer navigation in changing ice conditions.
As climate change causes sea ice cover to decrease, maritime activity in Arctic and Antarctic regions is expanding. Ships still face significant sea ice hazards as the ice situation is dynamic, particularly in the transition period between seasons, with unexpected drifting of sea ice into areas that are usually ice-free.
For the increasing numbers of vessels venturing into polar waters, accessing up-to-date information on changing ice conditions is vital for navigation safety. IcySea is a map-based application that delivers near real-time information on ice cover in the polar regions.
This ice information tool combines timely radar data from Sentinel-1 of the European Union's Copernicus Programme, with data from other remote sensing missions, enabling ship operators to make quick decisions and avoid dangerous ice.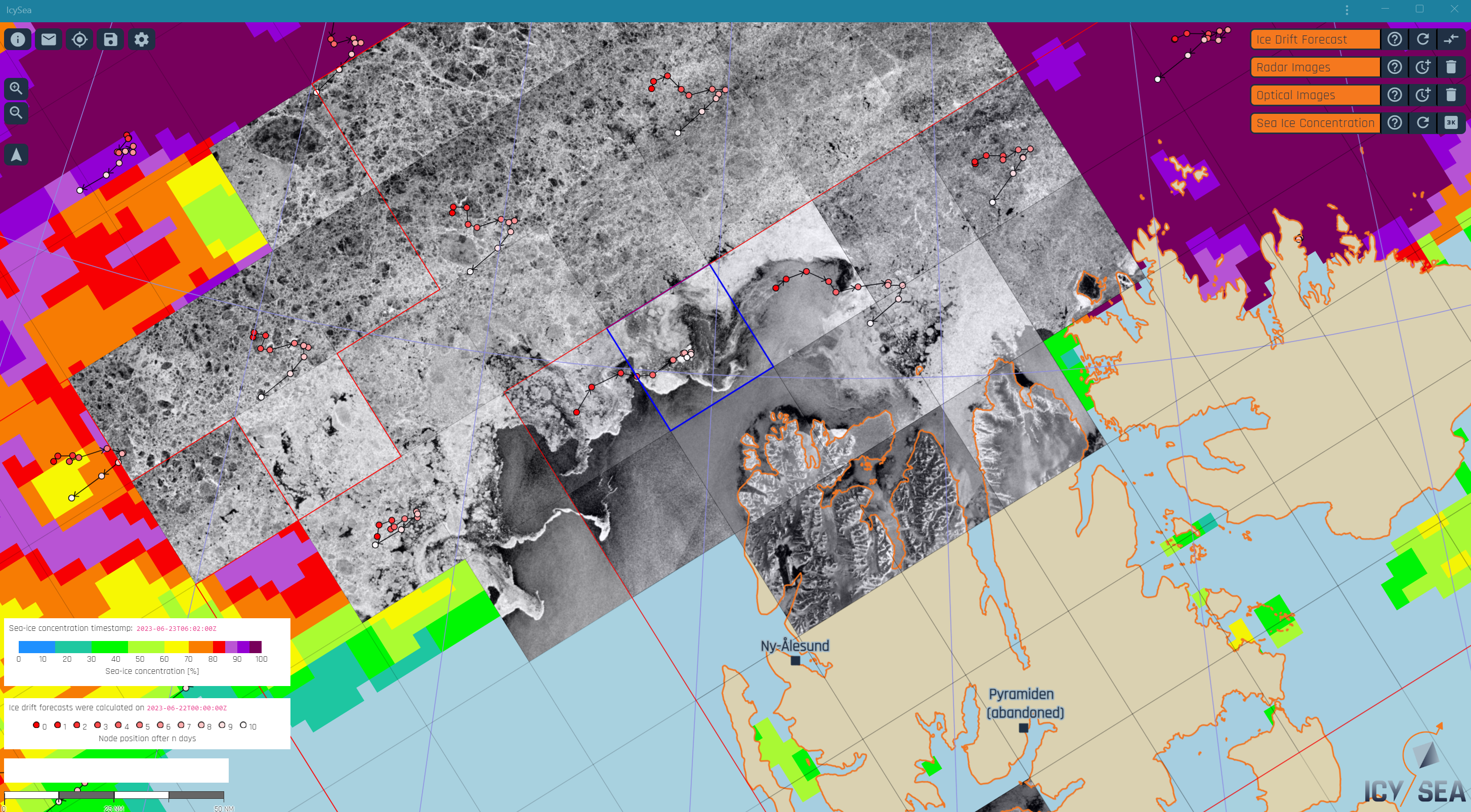 Copyright: Drift+Noise
Sentinel-1 radar data in easy-to-use form
Datasets are bundled in easy-to-use app
Ships navigating ice-infested waters often have low bandwidth connections, which prohibits the use of huge space data files. Their operators may also have limited experience with satellite data formats and graphical interface systems. IcySea aims to bridge these gaps, so users can easily see sea ice cover, as well as ice drift, in almost real time. The service is available on demand Arctic and Antarctic wide.
The IcySea app was developed by Drift+Noise Polar Services in Germany, which is a spin-off company of the Alfred Wegener Institute for Polar and Marine Research (AWI) and previously supported by ESA's Business Incubation Centre Northern Germany. In an ESA InCubed project, the development team added more datasets and navigation features, to ready it for commercialisation.
Copyright: Alfred-Wegener-Institute IceBird expedition/E. Horvath
IcySea App helps navigators in polar waters
"The primary users of IcySea are polar research vessels and expedition cruises – the latter giving rise to the largest increase in shipping in polar regions. They require various types of ice information – such as ice type and ice morphology – and Sentinel-1 is key to providing such high resolution ice information for the experienced polar navigator," says Lasse Rabenstein, of Drift+Noise.
The travel trend of expedition cruises means that more and more cruise ships journey to isolated polar areas, such as Svalbard, Greenland and the Antarctic peninsula. These expeditions differ from other cruises, as they specialise on exploring less visited or inaccessible destinations.
Many expedition cruises travelling to polar waters are certified with a so-called Polar Class, meaning they have capability to navigate in icy seas. Since part of the tourism experience is seeing sea ice, cruise line captains must navigate close to ice, while avoiding becoming stuck.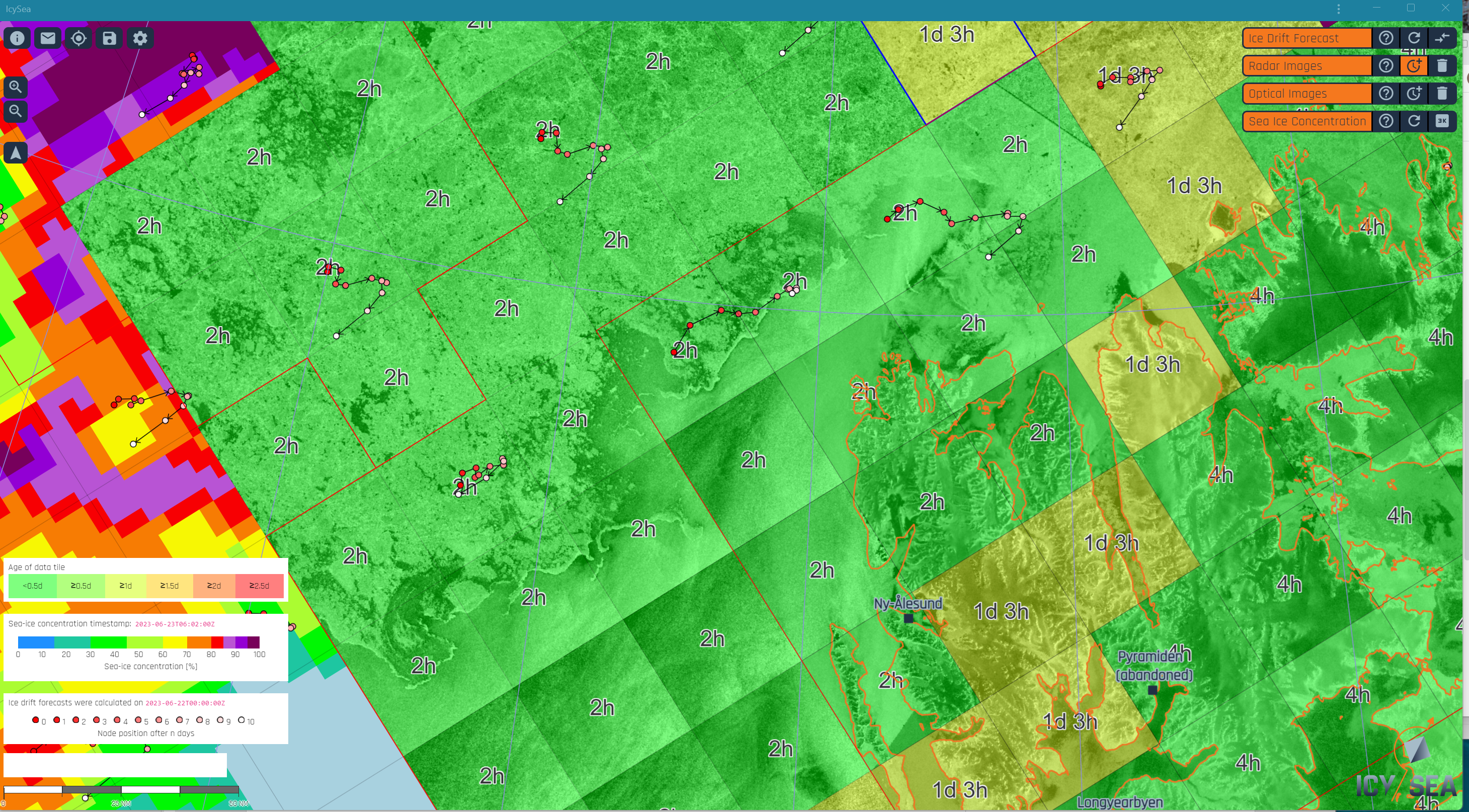 Copyright: Drift+Noise
IcySea app helps navigation in icy seas
"In the backend we are continually downloading Sentinel data from the Copernicus Services Data Hub, and providing data handling and image processing, so that our end users can access an easy-to-use display of ice relevant information on the frontend," explains Rabenstein.
A user can mark out a local geographical area and download radar data for this area in their display. They can even overlap with other filters for sea ice concentration and sea ice drift – provided by data from the Japanese GCOM-W1 mission and the TOPAZ-4 Arctic system of the Copernicus Marine Service, respectively.
The user needs timely information – so for the radar image filter they can choose to see how old the satellite data are in terms of hours. Combined with predictions of sea ice drift, this helps operators make sound profound routing decisions.
In the future, the development team hope to include more functionality in the IcySea app in terms of navigation handling, as well as providing more frequent updates with timely remote sensing data, by leveraging other synthetic radar aperture (SAR) missions, such as the upcoming Sentinel-1C and the Canadian RADARSAT constellation.
They are also investigating how to use neural networks and artificial intelligence to present interpreted images to the user and help them understand the types of ice they are facing.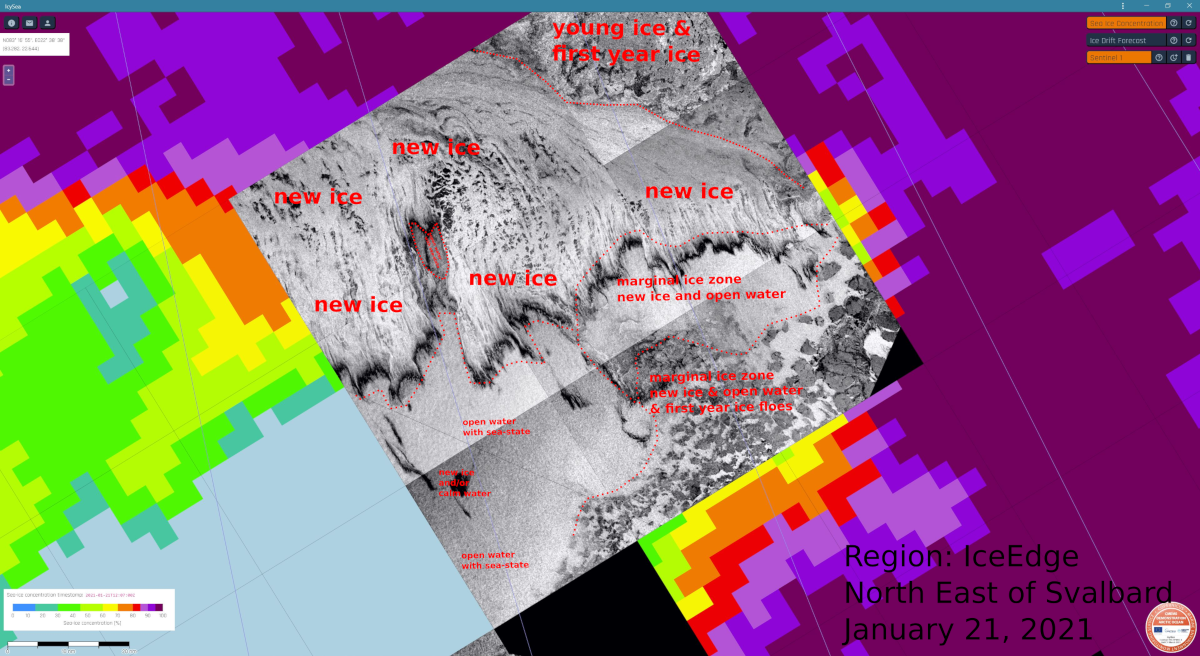 Copyright: Drift+Noise
Interpreting radar images is challenging
About the Copernicus Sentinels
The Copernicus Sentinels are a fleet of dedicated EU-owned satellites, designed to deliver the wealth of data and imagery that are central to the European Union's Copernicus environmental programme.
The European Commission leads and coordinates this programme, to improve the management of the environment, safeguarding lives every day. ESA is in charge of the space component, responsible for developing the family of Copernicus Sentinel satellites on behalf of the European Union and ensuring the flow of data for the Copernicus services, while the operations of the Copernicus Sentinels have been entrusted to ESA and EUMETSAT.
Did you know that?
Earth observation data from the Copernicus Sentinel satellites are fed into the Copernicus Services. First launched in 2012 with the Land Monitoring and Emergency Management services, these services provide free and open support, in six different thematic areas.
The Copernicus Marine Environment Monitoring Service (CMEMS) provides regular and systematic reference information on the physical and biogeochemical state, variability and dynamics of the ocean and marine ecosystems for the global ocean and the European regional seas.