The Sentinel Data Access section provides high level information regarding the Copernicus Space Component Data Access (CSCDA) and introduces the Sentinels as Contributing Missions to the Data Access Portfolio. It guides the user through the process of registration to become a Copernicus user, further detailed in the Copernicus Data Access web portal, and focuses on the Sentinel products availability and access mechanisms.
As the data access infrastructure deployment proceeds, the content of this Data Access section will evolve to include the latest information.
Access to Sentinel data is free, full and open for the broad Regional, National, European and International user community; data access mechanisms have been tailored to address the different requirements of the various use typologies.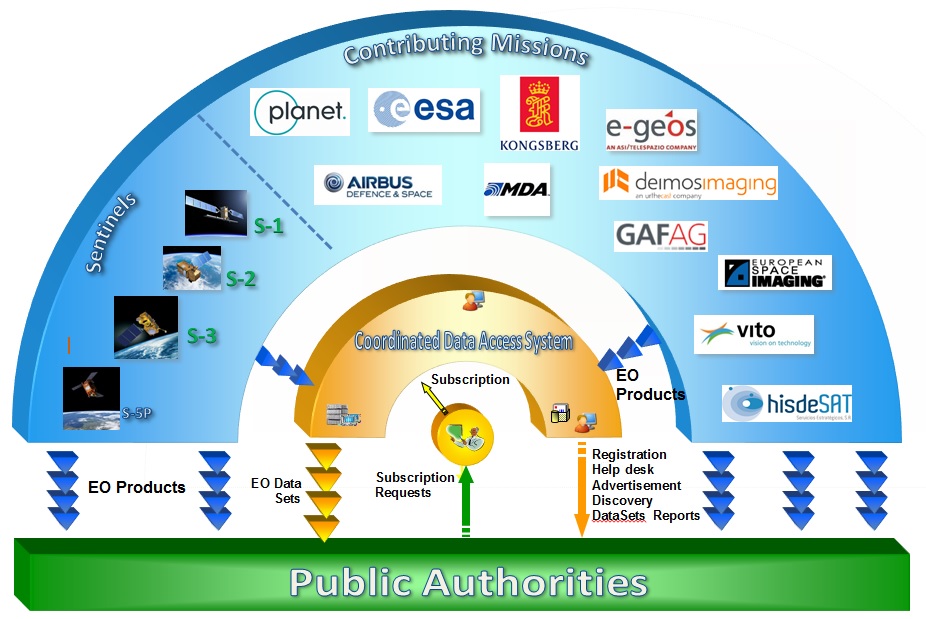 Copernicus Space Component
The European Space Agency is operating the Copernicus Space Component for the implementation of EO data access from the fleet of satellites contributing to the programme.
Since 2008, access to data from over 40 European and international space missions operated by national agencies or commercial entities has been granted to eligible Copernicus Users. With the progressive availability of Starting in 2014, the dedicated Sentinel missions developed by ESA, are to become Copernicus Contributing Missions (CCMs), enlarging significantly the overall operational Earth Observation capability needed is considerably enlarged to support fulfil the needs of the Copernicus Services.
ESA implements and operates the Coordinated Data Access System (CDS) and the interfaces with all the Contributing Missions, for an harmonized data provision service to the Copernicus Users, and to support the building of the datasets defined within the Data Access Portfolio (DAP).
The Copernicus users access the EO data according to access rights defined per user category; the Data Access Portfolio (DAP) describes the data offer as a series of EO data collections (datasets) and the conditions (i.e. data licensing, ordering mechanisms, product types available, delivery timeliness, data access mechanisms) under which they are accessible.