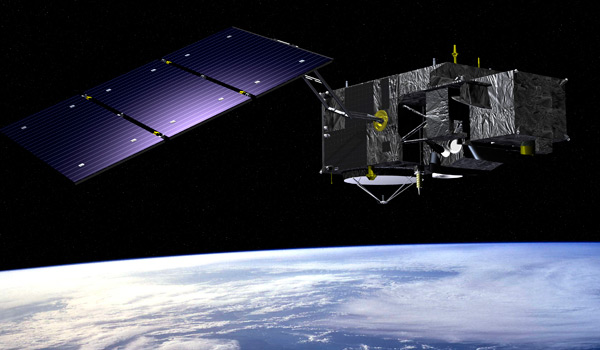 Sentinel-3 is an ocean and land mission composed of two identical satellites (Sentinel-3A and Sentinel-3B). The mission provides data continuity for the ERS, ENVISAT and SPOT satellites.
Sentinel-3 makes use of multiple sensing instruments to accomplish its objectives:
SLSTR (Sea and Land Surface Temperature Radiometer)
OLCI (Ocean and Land Colour Instrument)
SRAL (SAR Altimeter)
DORIS (Doppler Orbitography and Radiopositioning Integrated by Satellite)
MWR (Microwave Radiometer).
SLSTR and OLCI are optical instruments that are used to provide data continuity for ENVISAT's AATSR and MERIS instruments and the swaths of the two instruments overlap, allowing for new combined applications. OLCI is a medium-resolution imaging spectrometer, using five cameras to provide a wide field of view.
SRAL, DORIS, MWR and LRR are used for topographic measurements of the ocean and inland water. The SRAL altimeter is the main topographic instrument. The MWR radiometer measures water vapour, cloud water content and thermal radiation emitted by the Earth.
The observations acquired by the mission are used in conjunction with other ocean-observing missions to contribute to the Global Ocean Observing System (GOOS) which aims to create a permanent system of ocean observation.
In July 2009, ESA conducted an airborne campaign, SEN3EXP (Sentinel-3 Experiment) to test the land and ocean imaging applications of the Sentinel-3 mission using three instruments:
AHS (Airborne Hyperspectral System)
CASI-1500i (Compact Airborne Spectrographic Imager)
SASI-600 (Shortwave Infrared Airborne Spectrometer).
Satellite observations were also made by ENVISAT's MERIS and AATSR instruments, which are similar to the Sentinel-3 OLCI and SLSTR instruments, and the CHRIS instrument aboard PROBA-1.
Mission Details:
Please refer to the individual Mission details available from the Copernicus pages
Operational lifepsan:
7 years (With consumables for 12).
Mission objectives:
Measuring sea-surface topography, sea-surface height and significant wave height.
Measuring ocean and land-surface temperature.
Measuring ocean and land-surface colour.
Monitoring sea and land ice topography.
Sea-water quality and pollution monitoring.
Inland water monitoring, including rivers and lakes.
Aid ocean forecasts with acquired data.
Climate monitoring and modelling.
Land-use change monitoring.
Forest cover mapping.
Fire detection.
Weather forecasting.
Measuring Earth's thermal radiation for atmospheric applications.
Mission Orbit:
Orbit Type: sun-synchronous
Orbit Height: 814.5 km
Inclination: 98.65o
Repeat Cycle: 27 days.
Payload:
OLCI (Ocean and Land Colour Instrument)
SLSTR (Sea and Land Surface Temperature Radiometer)
SRAL (Synthetic Aperture Radar Altimeter)
MWR (Microwave Radiometer)
DORIS (Doppler Orbitography and Radiopositioning Integrated by Satellite)
LRR (Laser Retroreflector)
GNSS (Global Navigation Satellite System).
Resolution and Swath Width:
OLCI - 1 270 km
SLSTR - 1 420 km
Launch vehicle:
ROCKOT vehicle (SENTINEL-3A)
VEGA rocket (SENTINEL-3B)
Satellite Operators: ESA and EUMETSAT
Satellite Contractors:
Thales Alenia Space France (TAS-F) is the prime contractor, responsible for the overall. TAS-F is also the prime contractor of OLCI and SRAL instruments.
The prime contractor of SLSTR is SELEX Galileo, with the involvement of several European companies. A major sub-contractor is Jena-Optronik, in charge of the optomechanical assembly.
EADS CASA Espacio is contracted to provide the MWR instrument.
DORIS instrument is provided by CNES under a specific ESA-CNES cooperation agreement.
Eurockot and Arianespace are contracted to launch the spacecraft.