The Copernicus Sentinel-1 and Sentinel-2 satellites have found signs of an ongoing glacier dislocation between two recent massive ice avalanches in Tibet.
The Copernicus Sentinel-1 and Sentinel-2 satellites have found signs of an ongoing glacier dislocation between two recent massive ice avalanches in Tibet.
Climate change may be linked to one of the world's largest documented ice avalanches, which took place in the west of the Tibet Autonomous Region on 17 July.
Some 60–70 million cubic metres of ice and rocks cascaded down a narrow valley in Rutog County, killing nine people and hundreds of animals.
It is considered an unusual avalanche because it started from a gently sloped glacier rather than from a steep ice cliff. The ice and rock mixture spread over 6 km from the collapse point up to the Aru Co lake shoreline.
A Sentinel-2A image of the Rutog ice avalanche, from just four days after the event, shows that the avalanche covered a total area of 8.8 square kilometres.
"The only other known incident comparable in scale is the 2002 ice avalanche from the Kolka Glacier in the Caucasus Mountains in Russia," said Andreas Kääb, a glaciologist at the University of Oslo in Norway. "That catastrophic event killed 140 people."
On 21 September a nearby glacier also collapsed, and also showed signs of a similar initial slow destabilisation.
Following these two avalanches, data from the Sentinel-1 and Sentinel-2 satellites turned out to be the most reliable source of information available worldwide. The Sentinel-2 image from 21 July was the first to depict the initial avalanche, allowing it to be mapped.
Sentinel-2's multispectral imager (MSI) covers 13 spectral bands (443 nm–2190 nm) with a swath width of 290 km and spatial resolutions of 10 m (4 visible and near-infrared bands), 20 m (6 red-edge/shortwave-infrared bands) and 60 m (3 atmospheric correction bands), providing systematic coverage of land and coastal areas between 84°N and 56°S.
On 19 September, just two days before the second avalanche, Sentinel-2A imaged dramatic cracks on the southern glacier. Local authorities were immediately warned by a team of scientists, coordinated through the international committee on glacier and permafrost hazards in mountains (GAPHAZ.org). The 21 September avalanche seems to have happened just a few hours before the warnings reached the authorities, but nobody was injured.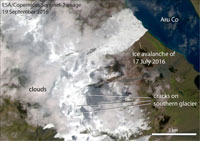 After the 21 September event, clouds covered the Aru Co area for about a week, so optical data were not available.
Sentinel-1 stepped into the breach, and on 24 September, delivered the first data, just a few hours after acquisition, confirming the avalanche and showing its extent in detail.
It employs the Terrain Observation with Progressive Scans (TOPS) technique, which is a form of ScanSAR imaging, where data is acquired in bursts by cyclically switching the antenna beam between multiple adjacent sub-swaths. TOPSAR acquisitions can provide large swath widths and enhanced radiometric performance by reducing the scalloping effect.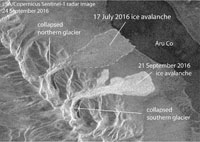 Sentinel-1 carries an advanced synthetic aperture radar (SAR), working in C-band. Its interferometric wide-swath mode maps the landmasses of our planet at 250 km swath and about 20 m resolution (5 looks).
"We were really impressed at how complementary the Sentinel-1 radar and the Sentinel-2 optical data are and how fast they were freely and openly available to us," Andreas Kääb says.
"The area became cloud-free one week after the second avalanche, but three days after the avalanche we had already received Sentinel-1 radar data of the event."
"The free and open access to the Sentinel data enabled crucial international collaboration. The scientists involved could download, analyse and discuss the data without lengthy delays."
The 17 July and 21 September 2016 glacier collapses are first and foremost tragedies for the locals. Scientifically-speaking, however, it is significant that two nearby glaciers collapsed within a short space of time.
Considering that remote observations based on a large number of very different satellite data could be carried out, with a delay of only a few hours or a day between data acquisition from space and analyses on the ground, involving scientists and satellite teams from several nations, indicates substantial progress in early warning capabilities related to natural hazards in remote regions.
The Sentinel missions have been designed to provide large mapping capabilities with high revisit frequency at global levels, enlarging the range of remote-sensing applications.
About the Sentinels
The Sentinels are a fleet of dedicated EU-owned satellites, designed to deliver the wealth of data and imagery that are central to Europe's Copernicus environmental programme.
In partnership with EU Member States, the European Commission leads and coordinates this programme, to improve the management of the environment, safeguarding lives every day. ESA is in charge of the space component, responsible for developing the family of Copernicus Sentinel satellites and ensuring the flow of data for the Copernicus services, while the operations of the Sentinels have been entrusted to ESA and EUMETSAT.