Steffen Dransfeld is in charge of the quality of the data from the Ocean and Land Colour Instrument (OLCI) and Sea and Land Surface Temperature Radiometer (SLSTR) instruments on Sentinel-3.
Sentinel-3 is part of the family of EU-owned satellites that are developed and operated in the context of Copernicus, the largest environmental monitoring programme in the world.
Steffen Dransfeld is in charge of the quality of the data from the Ocean and Land Colour Instrument (OLCI) and Sea and Land Surface Temperature Radiometer (SLSTR) instruments on Sentinel-3.
Sentinel-3 is part of the family of EU-owned satellites that are developed and operated in the context of Copernicus, the largest environmental monitoring programme in the world.
Launched on 16 February 2016, Sentinel-3A is a multi-instrument satellite to measure sea-surface topography, sea- and land-surface temperature, ocean colour and land colour with high accuracy and reliability. The mission supports ocean forecasting systems, as well as environmental and climate monitoring.
The mission is the result of close collaboration between ESA, the European Commission, EUMETSAT, France's CNES space agency, industry, service providers and data users.
ESA and EUMETSAT jointly manage the mission, where ESA processes land products and EUMETSAT the marine products, for application through the Copernicus services.
Dr Dransfeld is responsible for the SLSTR instrument, which measures global sea- and land-surface temperature every day to an accuracy of better than 0.3 K, and for the OLCI instrument, which is considered the new eye on Earth. OLCI allows ocean ecosystems to be monitored, supports crop management and agriculture, and provides estimates of atmospheric aerosol and clouds – all of which bring significant societal benefits through more informed decision-making.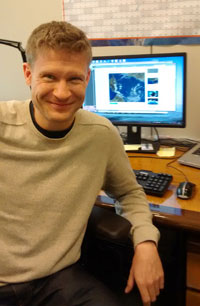 Born in Jever, Germany, Steffen Dransfeld moved to the UK when he was at school. He obtained a Master's degree in Electrical Engineering in 1998 from the University of Surrey.
After a year in industry, he returned to academia and obtained a PhD on the development of ocean colour algorithms from the University of Southampton. After a two-year Marie Curie postdoctoral fellowship at CLS, Toulouse, where he improved commercial remote sensing products and a further two years at the Institute of Oceanography in Hamburg to manage the German SMOS Office, in 2007 he took a post as a research fellow at ESRIN - ESA's Earth observation centre.
His research focused on the retrieval of oil-spill information using synthetic aperture radar (SAR) and optical products. He was also involved in Earth observation education activities and supported the Support to Science Element programme.
In 2010, he joined the Ground Segment Department in the User Services and Mission Planning Section, which focuses on the development of operational ground segment systems. Here, among other tasks, he was responsible for the development of the Sentinel-2 mission planning system.
In 2016, he joined the Sensor Performance Products and Algorithms Section, where he has been in charge of quality aspects for medium resolution optical and thermal infrared sensors. As Sentinel-3's OLCI and SLSTR data quality manager, he is in charge of the development and operations of the mission for all aspects related to the sensors calibration, products validation, products quality control and the definition of products and algorithms evolution.

ESA: Dr Dransfeld, what does your role as data quality manager entail?
Dransfeld:
My role is to bring together everything that has a direct impact on the quality of the products we deliver to users. These range from the underlying science of the product algorithms, to the day-to-day routine of delivering quality-controlled operational data.
This means working on many different levels, in constant communication with the operational centres that are carrying out quality control and the world-class experts in the instrument quality working groups that we have for our missions. We discuss product quality and how it may be improved, before feeding any changes back into the operational production. So it is an end-to-end process that needs a lot of attention, prioritisation and coordination between all the different groups involved.
At the same time, we have a close collaboration with our ESTEC colleagues from the project department during the commissioning phase for each mission to ensure the health of the instruments and monitor the initial product quality. We join forces with the Science, Applications and Future Technologies Department, which runs validation campaign studies that are vital to assessing the quality of our data products. So we obtain supplementary information to assess instrument calibration with in situ data.
Moreover, my role entails defining and following new product evolutions from our sensors, which is required by the community and is often a result of the perpetual scientific quest to get more out of our data. Earth observation is an ever-improving field.

ESA: What work do you and the Mission Performance Centre carry out and which contracts are under your supervision?
Dransfeld:
The Mission Performance Centre lies at the heart of the quality control for the Sentinel-3 products. My responsibility is to manage activities that ensure the quality of OLCI and SLSTR data. Again, this is a role that develops at different levels, with a similar end-to-end process as described previously, from the scientific algorithm expertise to embedding it in the operational product stream.
Similar to the quality working group setup, we have an Expert Support Laboratory (ESL). This consists of experts from industry and national research institutes from around Europe that have long-standing experience of instruments similar to those that were carried by ERS and Envisat. We meet a few times per year to identify and plan the necessary data quality improvements. The ESL also serves to consider Quality Working Group recommendations and with its operational experience and role coordinates how to implement these to provide an important complementarity to the Quality Working Group
Additionally, we have contracts with industry, national space agencies and research institutes throughout Europe, providing us with important studies of sensor intercomparisons or, for instance, cloud mask evolutions and ground truth collection, which help us to improve the calibration of our instruments.

ESA: How do you manage to carry out data quality checks on two of the satellite's instruments, and how do you ensure that this matches the same pace as the data delivered by other instruments?
Dransfeld:
This is by no means an easy task. It requires effort from a large team of operators, software engineers, instrument experts and managers on the industry side that work together and with me to ensure that problems in quality are readily spotted and rectified before releasing updated algorithms to the processing centres.
Part of this work is also related to surveying the overall processes and tools the teams have at their disposal and see where there is a need for streamlining all industrial requirements generated by data quality objectives, and that these are adequately covered.
With OLCI and SLSTR there is the added complexity that both instruments are exploited in synergy. This effectively creates a further product stream that has to be quality controlled and properly validated. At the same time, this can result in synergies that could also improve the individual sensor products.
Ensuring that these product streams are delivered to the users with similar timeliness as other mission products means that each production branch has to have its own routine quality control, allowing quality issues to be spotted and solved with minimum disruption to the other production branches.

ESA: How do users benefit from the constant control of the data quality?
Dransfeld:
The Copernicus Services are the prime users, but we also have others. With the launch of the Sentinels, we have entered an era of operational Earth observation and our mandate is to provide operational data streams to these services. Therefore, with the MPCs we have put entities in place that provide the constant control and reactivity needed by operational services.
Meanwhile, we have users such as scientists interested in algorithm development or studying time series of data. They all benefit greatly from carefully calibrated and validated products.
Sentinel-3 carries instruments with long-standing heritage. The heritage of SLSTR goes back to 1991 with the launch of ERS-1 carrying the ATSR instrument. OLCI's predecessor is MERIS on Envisat, which was launched in 2002. This resulted in important data records that are used to assess climate trends. Improvements in SLSTR and OLCI quality may also lead to progress of these data records through reprocessing. The quality control carried out now can therefore improve past records.
Therefore, the quality control we perform serves to make sure we produce data as per the mission requirements, improving wherever possible, as well as providing continuity to existing datasets, while raising quality even higher as new data arrives.

ESA: What are the difficulties or challenges you face in monitoring the quality of data?
Dransfeld:
One of the strengths of the Sentinel-3 mission is that it is operated by two agencies: EUMETSAT for the marine products and ESA for the land products. This allows for more experts to be involved in actions, workshops and so on than would be the case if there were just one agency. This enables a cross-fertilisation of activities between the marine and land operational entities.
This setup, however, has an added complexity because of the number of interfaces and groups that need to work together to ensure a coordinated and synchronised distribution of data to the users. This means a lot of exchange and sharing of information between the teams.
About the Sentinels
The Sentinels are a fleet of dedicated EU-owned satellites, designed to deliver the wealth of data and imagery that are central to Europe's Copernicus environmental programme.
In partnership with EU Member States, the European Commission leads and coordinates this programme, to improve the management of the environment, safeguarding lives every day. ESA is in charge of the space component, responsible for developing the family of Copernicus Sentinel satellites and ensuring the flow of data for the Copernicus services, while the operations of the Sentinels have been entrusted to ESA and EUMETSAT.