Today we are interviewing ESA's Philippe Goryl, who is responsible for leading the data quality managers of the various Sentinel missions.
Today we are interviewing ESA's Philippe Goryl, who is responsible for leading the data quality managers of the various Sentinel missions.
The family of Sentinels are EU-owned satellites, which are developed and operated in the context of Copernicus, the European Union's Earth Observation and Monitoring Programme.
This satellite family currently consists of six missions that focus on different aspects of our planet.
The Sentinel-1, -2 and -3 missions are based on a constellation of two satellites to fulfil revisit and coverage requirements for the Copernicus Services. So far, five Sentinel satellites are already in orbit.
They carry a range of technologies, such as radar and multispectral imaging instruments for land, ocean and ice monitoring.
Sentinel-1 is a polar-orbiting, all-weather, day-and-night radar imaging mission for land, emergency and ocean related services. The constellation is complete, with both satellites in orbit. Sentinel-1A was launched on 03 April 2014 and its twin was launched on 25 April 2016.
Sentinel-2 is a polar-orbiting, multispectral high-resolution imaging mission for land monitoring. It provides imagery of vegetation, soil and water cover, inland waterways and coastal areas. It can also deliver information for emergency services. Sentinel-2A was launched on 23 June 2015 and its twin was launched on 07 March 2017.
Sentinel-3A, launched on 16 February 2016, is a multi-instrument mission to measure sea-surface topography, sea- and land-surface temperature, ocean colour and land colour with high accuracy and reliability. The mission supports ocean forecasting systems, as well as environmental and climate monitoring. Its twin Sentinel-3B will be launched at the end of 2017.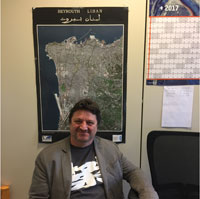 Born in 1966 in Argenteuil, France, Philippe Goryl has been at ESA since 1995. In 1990, he received his Master's Degree in Physics in Remote Sensing from Paris VII Jussieu. He later spent almost two years at ORSTOM (currently IRD – Institut de Recherche pour Dévelopment) in Dakar, Sénégal, where he worked on west African climate and sea-surface temperature retrieval from Meteosat satellites.
In 1993, he was recruited as a Young Graduate at ESA's Earth Observation Centre, in Italy. Here, he started to work on the Japanese satellite JERS-1 optical sensors, assessing and improving the quality of its products.
In 1995, he gained a staff position in ESA's Directorate of Earth Observation. Working in the Operation Division he was involved with optical sensor quality, in particular, on Landsat and the Along Track Scanning Radiometers carried on ERS-1 and ERS-2.
In 2000, he switched to the sensor performance products and algorithms section in the Ground Segment and Mission Operations Department. Among other aspects, he followed the development and operation of the Advanced Along Track Scanning Radiometer and MERIS on Envisat. He became the data quality manager for the Ocean and Land Colour Instrument and the Sea Land Surface Temperature Radiometer instruments on Sentinel-3.
He was in charge of the development and operations of the mission for all aspects related to the sensor calibration, products validation, products quality control and the definition of products and algorithm evolutions.
Since June 2016, Philippe Goryl has been head of the Sensor Performance, Products and Algorithms section.

ESA: Could you please explain what your role as head of data quality of all the Sentinels entails?
Goryl: I lead a team of scientists and engineers who are in charge of the quality of products for all ESA and Copernicus Missions. Quality is taken in a broad sense as it encompasses sensor calibration, product validation, routine and operational quality control, and the development and evolution of the algorithms. We deal with about 30 missions, more than 200 product types, with various and diverse methods of calibration and validation.
The Copernicus Sentinel missions are of course a very important component of ESA's Earth Observation programme. With five satellites currently in orbit and two additional ones that should be launched this year, the Sentinels are generating a very large number of products and information.
Each payload instrument is an accurate and precise scientific instrument. Maintaining quality is all about a regular stream of verification and validation data that can be used to check mission and product performance. Verification and validation data have to be of equal and ideally better quality than anything else. My main goal is to manage the team of experts, giving them the right framework to ensure that the products handed to the users meet the mission requirements and user needs.
I also try to provide 'a vision for the future'. We have an evolving context: a larger and wider variety of users (experts, non-experts, science, operational application, media, general public, etc.), more actors (European Commission, EUMETSAT, internal and national agencies - NASA, NOAA, JAXA, USGS, CNES, DLR, etc.), intergovernmental committees (GEOSS, GEO, CEOS, GCOS, etc.), with science and technologies also quickly evolving, the products' accuracy requirements are more demanding. ESA satellites are designed to provide top-quality data through highly-reliable technologies. Within ESA's ground segment, the processing algorithms and calibration and validation activities are developed and operated with the same top-quality data objective.
In particular, the way in which an algorithm is developed and the validation performed is changing towards a more collaborative environment, for instance, exploitation platforms. Users will be able to access a large volume of data, and test, compare and validate their own algorithms. This will allow faster and better development of algorithms and quicker and better mission validation. This is also well in line with the new Ground Segment Evolution Strategy.
Lastly, and something that shouldn't be under estimated, is a role of translation: the head of section is a post between the technology, science and management. I deal with a large number of interfaces with different expectations, objectives, knowledge, language and cultures. I must translate technical and scientific issues into a programmatic language and vision, and vice versa. With respect to calibration and validation, in particular, the benefit of gaining few percentages in accuracy or knowledge is not always easy to explain. The length of time required to detect a climate trend caused by human activities is determined by natural variability, the magnitude of human driven climate change, but also the accuracy of the observing system. Therefore, knowledge of calibration and higher accuracy observation is critical to better understand climate change. This has a huge societal and economic impact.

ESA: What work do you and the Mission Performance Centres carry out and what contracts are under your supervision?
Goryl: The Mission Performance Centres (MPCs) are a central element of the Sentinels Ground Segment. They are designed to conduct operational verification, calibration and validation, quality control and end-to-end mission performance assessment activities. Copernicus is an operational programme.
Data quality is therefore very important. For each mission, the MPC takes care of this. It is based on industrial contracts, providing a team of experts covering the various domains related to the calibration, validation and algorithms. One of the goals of the MPCs is to assess the accuracy of the products. The MPC also relies on external validation measurements, performed by independent scientific teams. In order to give the right confidence regarding products, the validation (in-situ) measurements must be of high quality.
We cannot do this without fundamental traceability for all ground measurements used; this is the scope of the concept of Fiducial Reference Measurements (FRMs). FRMs are the suite of independent ground measurements, which provide the maximum scientific utility/return on investment for a satellite mission, by delivering, to users, the required confidence in data products, in the form of independent validation results and satellite measurement uncertainty estimation, over the duration of the mission. A number of projects (contracts) have been put in place to qualify the validation measurements as FRMs. These contracts involve top-class scientists, but also metrology institutes that provide reference standards. The concepts of data-quality assurance and traceability are not new, although their systematic implementation for Earth observation is far from being achieved.
In addition to these large contracts, it is essential to constantly carry out research and development activities in specific domains, so as to stay on top of science. The research and development of today is the operations of tomorrow.
We manage a large number of contracts, from large (MPCs), to medium (validation and FRM), to smaller types (research & development studies). This involves experts from big satellite manufacturing companies, public research laboratories and small/medium enterprises, which are distributed across different countries in Europe.

ESA: How do you oversee the performance of all Sentinel data quality managers?
Goryl: The Sentinels are operational missions. They have to meet certain requirements in terms of quality. Therefore, ultimately, the data quality managers' performance and success is evaluated with respect to the quality of the data the mission delivers. Every year, at department and at section level, we define objectives that allow us to set up the right framework to develop and perform calibration, validation, algorithms and quality control.
Then, a formal process takes place to evaluate the achievements of the objectives and to learn from the results (positive or negative). However, the best motivation for the team is to obtain the finest quality from an instrument. In the end, the user satisfaction and the fit for purpose are what are most important. When a sensor is recognised as a reference sensor, we can be proud as was the case with ATSR, for example, recognised by the community as the reference sensor for sea-surface temperature, and we hope to have the same success with Sentinel-3.

ESA: How do you exploit the synergies between various Sentinel data?
Goryl: Synergies can be understood at different levels. They can be seen between the various Sentinels in term of methods and procedures. We try to harmonise the approaches for the quality control or for the validation, for example, by developing the concept of FRMs. But it can also be understood at product level. For instance, intercalibration is very important. Between Sentinel-2 and Sentinel-3, observing in similar wavelengths but at different spatial resolution, we must understand the difference between both sensors. Today, many applications require a multisensor approach such as virtual constellation, Copernicus, Climate Change Initiatives, etc. This means that we must provide well-calibrated and intercalibrated measurements.
This is one of the objectives of GEOSS – the Global Earth Observing System of Systems. A system of systems can only work if quality standards and references are put in place, otherwise it would be a cacophony generating more noise than information. The intercalibration is even more important between satellites of the same family. Sometimes it is taken for granted that the different 'satellite units' (Sentinel-A and Sentinel-B) are the same, but in reality there are always small differences that must be well characterised and understood.
Activities to characterise and understand the differences are very often carried out in an international context and agreement (in the framework of the CEOS Working Group Cal/Val), so we can also compare results between various national and international agencies.
In particular, the EU's Copernicus programme provides a complete observation system that observes our planet at complementary wavelengths (from visible, to infrared, to microwave, radar) and at complementary spatial resolution (high, medium to low resolution). Data can be used in synergy only if the associated quality is well understood. Moreover, to complete the global picture, if we can't forget ESA's Earth Explorer missions, which target more specific scientific objectives, we have a fantastic and unique tool and programme to better observe and understand our planet. This is the golden era for remote sensing in Europe!

ESA: What are the challenges you face in monitoring the managers of three different missions?
Goryl: You mean the managers of four missions—we should not forget Sentinel-5P, which will be launched this summer.
Ambitions are quite high, the managers are passionate and we always try to perform better. Given that manpower is limited, I have to be careful that they are not too overloaded and they have the proper resources to do their jobs. Moreover, their role is quite central, also in the sense that they interface with a large number of actors with various and diverse roles and responsibilities, from science to operation, from satellite to instruments, from algorithm to processor development, from products to applications, etc.
They are involved in the early mission definition phase (phase 0/A), in the development phase (phase B/C/D) and in the operation phase (phase E/F). They are the ones making the link between users and ground segment. This requires a large number of interactions and coordination that need a lot of time. So finding the right balance between the various aspects is not always easy – we have to establish priorities, always privileging the operational side of the missions.
But I am lucky to have an experienced, highly-competent and motivated team.
About the Sentinels
The Sentinels are a fleet of dedicated EU-owned satellites, designed to deliver the wealth of data and imagery that are central to Europe's Copernicus environmental programme.
In partnership with EU Member States, the European Commission leads and coordinates this programme, to improve the management of the environment, safeguarding lives every day. ESA is in charge of the space component, responsible for developing the family of Copernicus Sentinel satellites and ensuring the flow of data for the Copernicus services, while the operations of the Sentinels have been entrusted to ESA and EUMETSAT.